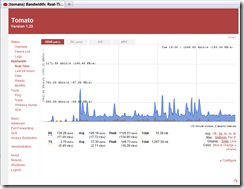 Having had problems with my ISP's modem/router/firewall/wireless device, I wanted to bridge to a separate device to handle the routing, firewall and wireless.
I have been using a Linksys WRT54G version 1 for this task. The firmware had to be flashed with DD-WRT, which is a pretty good firmware all in all, but seemed to be stretching the limits of the version 1 WRT54G.
The vintage DD-WRT build, which is the appropriate flavour for the WRT54Gv1 is a stripped-down version of DD-WRT which doesn't contain some of the newer features. Although it was fairly stable, it got slow and unresponsive at times over wireless, and had some trouble maintaining long-term RDP sessions over wireless, dropping the connections maybe twice an hour for a minute or so each time. Although QoS may have been an issue, my clever rebuttal is that "it doesn't work for me out of the box": I'm lazy as fuck, what do you expect?
All in all, DD-WRT worked better than the Speedtouch 780 as a router, and better than the stock Linksys or OpenWRT firmwares. My main problem with DD-WRT was that for some black magic voodoo reason, the XBox 360 was unable to join the wireless network. It could detect it, discover encryption method, but was unable to connect to the network no matter how hard I tried, no matter how hard I cried into my pillow.
After acquiring some expert/professional advice (i.e., googling the interwebs), I installed tomato the other day, and lo and behold—the XBox was able to connect without problems. Tomato seems more responsive than the DD-WRT thus far, which is another bonus.
I'm not sure about the newer WRT54G models, but if you have a version 1, you may want to consider using tomato rather than the stock Linksys, DD-WRT or OpenWRT firmwares.
They decided to change the format of the annual CNY celebrations this year, I think it turned out for the worse. Chinatown was literally blocked up with people, and old people were pushing us quite ferociously—it was quite a trauma, tbh.
The fireworks used to go off in Leicester Square every few hours, and the police would control the number of people in the area. This year, they decided to do only one show of fireworks, right before the end at 6pm.
The Dragon dancing through Chinatown had babies and we ended up seeing 3 or 4 different dragons, each causing a human traffic jam… pretty well planned guys.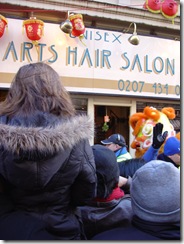 Pure quality shot.

Mad mafia boss protection.
If your Sparc is not set to automatically boot from CDROM, you might find the following handy.
Requirements:
Sparc (tested on UltraSparc 10)
Debian image
ISO burning software
Monitor and keyboard for Sparc (alternatively, run from serial terminal—serial cable required for this).
Instructions:
Download the debian sparc netinst iso image.
Burn the image to CD.
Put the CD into your Sparc.
Power off the Sparc.
Plug in keyboard, mouse, and monitor.
Power on the Sparc, you should see the POST and the machine initializing memory check.
Hit STOP-A. You will be brought to the "ok" prompt.
type "boot cdrom".
Run through regular Debian setup process.
That's it.
You may want to read this previous post for installation caveats regarding MBR, SILO, and serial terminal install.
Welp, that was fun. I guess it's time to use this thing again.
Now that WordPress has a decent CAPTCHA facility for comments, maybe I'll stop getting blasted with Viagra ads by robots—we'll see… it's a new year, full of incredible possibilities…
Hi guys, this site is not going to be updated anymore, for now. I have opted to use Windows Live Spaces instead. Why? To be honest, I don't have time/any desire to maintain WordPress anymore. Lazy as fuck, I know, I know.
So long csoft blog, and thanks for all the phish(ing).
Ok, so I reckon my first attempt at dissociation wasn't so great. Recently, I compiled all my IRC logs from 2004 to current, and ran it through for some better results (having pored through the other 99.9% utter mumbo-jumbo it generates).
Three hundred odd megabytes of IRC banter…
-rw-r–r– 1 art art 332202514 2008-02-20 23:50 irc.log.2004.2008
… which is a mere 6.74 million lines …
6747292 lines
… process wildly for about an hour at gas mark 6 …
real    62m19.124s
user    10m46.532s
sys     0m9.589s
And out come a few tasty treats:
Buy a gay Gangsta / The ass down; dead sexy G / arfer gotta reboot computer / Well you don't have a beard! / Lisa is not too, unstoned / im jackie chan takeover never even if u want / Aftermath, prevention.  Full paychecks Fraggle. / Cnn, was real sickening robcool. / hehe stupid cockos stupid calculus? / Elm: what he came to finish your asscrack / A Leetle HAHHHHHHSSSHHH! / digit null: has attained level in stupid / more in theory of my fire slowing the connection / I can shoot it fack / Its fuckin gets your fuckin nick now / Next level Next year Robcool.  Badapbapbapbap / …

Kinda bit depressed; unwanted

… / And all go once and bait, etc, clarkee. / stripey fuq all of idlerpg. / Unf Unf unf unf centry tastes arf clean it appears / Though.  Fighting kobi: pescado namssa. Crazy, weepy tooof; / die, jimmy. / ubuntu linux is now online stuff / Fncypntz: hotboxing the face (off signoff Vision and: a bowl accidental / the Worst thing is Seafood its a: depressed Robcool. / Bobsaget, the Council isn't gay. / Might be about a south america asia jerk striphy / arf; damns i m fakeidler. / long Faggot taking picz unstoned unstoned imvfpisssed unstoned just communicate with you do my vibrator hookup. / Baub you're tainted authority / i would be satisfied!  Fncypntz. / Yeah good luck to verruca / Rofl plus extras / I have to the bottom of the lunch time you can carry around with your cock in day making snickers / Look like having arf call you biatches has ill give; / I don't support arfyarf: bbiaf / got in Iraq, Us the Connection reset by peer, Voltron got it rst / Those hot like a Differential equation / Deuce. / Three words you fixed zombie / Heheh pescado es bueno hay mucho Infamous / This world is first. / Tuck Tuck was like fuck / Ok enough of lies. / Well lookie IMPOTEEEENNNNCEEEE arfyarf. / penis join join to somewhere But I dont I suppose the americans smegma Rampage / Superfriends is you / But it's crack house once i have corn flakes / there is arfer: ban him / Fag?  Werent lyin tumble.  Jimmy he could find anyone Want me / Bsd is now known as bloated / Lol meiso its tea joint lush and you enjoyed use Maxells flame flame, again did! / Gonna go for this brand of english men / It's offical reunification was for valentines?  Whooo wouldnt smoke man! / tomorrow most of that be something Robcool; grapenuts; gooses. / Apmannen (reaches next level next level aznsensation)! / hahaha arf it's arf so it sucked, apparently / Gay arf: arf. / Get laid tonight.  Oh my account. / So many many girls mad glad to the answer (these dried saliva produced stripey). / Aye man, this that was kicked from vagina?  Haha / girlies are into to stripey. / The level procrastinator, is supposed to tear down arf / …
I'm beginning to learn a few things more about my Sparc based on these scientific findings. I do believe he's a raging homosexual, and a drug addict. Fascinating.
It's nice to get along with your neighbours. Yesterday I spent 2 hours listening to one of ours–again. He is a 3-time ex-convict, recovering crack addict, formerly homeless, used-to-be-gangsta, etc.. Ever met those types of people who just have to talk loudly, no matter what? How about those types that can't stop spitting little bits of saliva when they speak? Nice one. Mad nice to meet you.
This guy has lately become so paranoid that he's convinced that a neighbour nearby is actually a prison guard, and that everyone in our neighbourhood is conspiring against him.
He's "caught" our neighbours talking to each other–obviously about him, what else could they possibly be talking about? The other day, he realized that they had trained all their cats and dogs to shit and piss on his garden. Also, apparently they wait for him to clean his garden, then throw junk into his lot.
They have also used pre-emptive strikes to "mess up" 5 chances he had with women (all of whom he seemed convinced he would marry). They also know when he is doing his Islamic verses and prayers (he's trying to convert into the faith), and deliberately make things "unclean" for him, breaking in and touching his Koran, and so forth.
Also, the neighbours listen to his phone conversations, plan when he's out to burgularise his flat up, and don his hoodie and track pants. He caught someone wearing his track suit once, yelled and threatened them until they ran off. When he got back home, he discovered that his place had been apparently entered into, and it seemed as if the clothes were put back hastily. No joke.
From what I know, our neighbours seem to be mostly families. This guy is a single thirtysomething spazz who can't hold an honest job down for the life of him. Makes sense that they'd be mad envious and want to mess him up.
… did I mention he consistently reeks of burger grease smell?
Pure "I C, I C… /me nods head and looks at his watch repeatedly." Woe is me, for I can't be rid of dickheads.
$ cat `find /directoryname -type f`
Got my paws on the RTM of Vista SP1 yesterday night, and upgraded earlier today off a mostly-clean 6000 build, without a hitch. Apart from rebooting a handful of times and taking about 2 hours on a new notebook, I haven't run across any problems yet.
SUA SP1 also works (and is more or less just as slow and shitty).
Anyhow, it's somewhat exciting to have a moreso Server 2008-like kernel.