Archive for the 'network' Category
In order to install openssh server correctly for Windows 7, you will need to do the following:
Install Cygwin in the normal way. Make sure you've got openssh and cygrunsrv as selected packages to install.
Right-click the Cygwin shell icon, and Run as administrator.
Run ssh-host-config. Follow the prompts carefully: if needed, it will tell you which permissions you need to set and where. Remember to say yes to privilege separation: it will create a user for you called cyg_runsrv which all cygwin services will run under in Windows 7.
You should be able to start the service using cygrunsrv –-start sshd, or by starting it as a normal service under Administrative Tools > Services.
This does not automatically create and open firewall rules, so you will have to do this manually.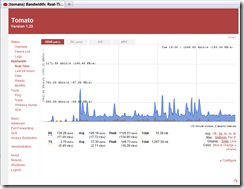 Having had problems with my ISP's modem/router/firewall/wireless device, I wanted to bridge to a separate device to handle the routing, firewall and wireless.
I have been using a Linksys WRT54G version 1 for this task. The firmware had to be flashed with DD-WRT, which is a pretty good firmware all in all, but seemed to be stretching the limits of the version 1 WRT54G.
The vintage DD-WRT build, which is the appropriate flavour for the WRT54Gv1 is a stripped-down version of DD-WRT which doesn't contain some of the newer features. Although it was fairly stable, it got slow and unresponsive at times over wireless, and had some trouble maintaining long-term RDP sessions over wireless, dropping the connections maybe twice an hour for a minute or so each time. Although QoS may have been an issue, my clever rebuttal is that "it doesn't work for me out of the box": I'm lazy as fuck, what do you expect?
All in all, DD-WRT worked better than the Speedtouch 780 as a router, and better than the stock Linksys or OpenWRT firmwares. My main problem with DD-WRT was that for some black magic voodoo reason, the XBox 360 was unable to join the wireless network. It could detect it, discover encryption method, but was unable to connect to the network no matter how hard I tried, no matter how hard I cried into my pillow.
After acquiring some expert/professional advice (i.e., googling the interwebs), I installed tomato the other day, and lo and behold—the XBox was able to connect without problems. Tomato seems more responsive than the DD-WRT thus far, which is another bonus.
I'm not sure about the newer WRT54G models, but if you have a version 1, you may want to consider using tomato rather than the stock Linksys, DD-WRT or OpenWRT firmwares.
Today I ran the Windows binary package of MAngband 0.7.2a. Apart from missing walls and other things, it would consistently crash when I typed ':' to chat. Pretty annoying.
As a result, I've compiled a Vista-compatible version of MAngband. You will need at least the Cygwin base set installed, as MAngband requires terminfo definitions. You can check out the project page with all the relevant downloads and information at MAngband-Vista. I hope to release updated versions of MAngband-Vista as new versions of MAngband are made available, and until these issues with Vista are resolved in the official distribution.
I'm tired of constantly forgetting this ultra-advanced syntax:
iface eth0 inet static
  address 192.168.1.77
  netmask 255.255.255.0
  gateway 192.168.1.1
or, via DHCP:
iface eth0 inet dhcp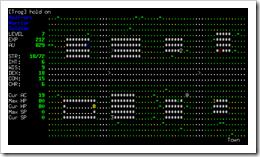 Well, after years and years of slow and patient progress from Crimson, he's made an official post on the official MAngband website stating that he intends to step down from maintaining MAngband, in lieu of the the current developers working hard at pushing out 1.0!
11/27/2007         Moving Day.    

On Tuesday, December 5th, 2007, MAngband begins a new era.

Finally admitting both to myself and the community that I simply no longer have the time to properly support the game,
I have delegated control and stewardship of it to a much more dedicated team of people, who have already started
making massive advances towards getting us up and running on 1.0 stable, as well as a much more structured development cycle.

I have been honored to have sat in stewardship of the game for these many years, and I
deeply appreciate both the trust, patience, and support I have received from the community at large during this time.

I will, of course, continue to participate in the game, and look forward to talking, and playing with the group.

Sincerely,

Robert L. Seifer

–Crimson
I can't say I disagree with Crimson's decision. Out with the mold, in with the new. I had a chat with someone on #mangband@irc.mangband.org earlier, and we had a pleasant discussion about some of the things MAngband 1.0 needs most–a code enema and some UI enhancements. While MAngband has always been the multiplayer roguelike, I'm sure few can say it's been a pleasant multiplayer experience these past years. The interface is truly roguelike, to the extent that multiplayer interactions (like chatting) become awkward.
Wuala looks interesting indeed. The way it replicates information is a lot more efficient than Freenet from the looks of this video (they're built for different purposes, but the math used in Wuala is pretty original). Too bad they're not doing a public beta yet, the service is on a signup-and-wait-for-us-to-possibly-invite-you-someday type of deal at the moment.
Aye, it was a pain to get this one going properly with the line drawing:
Set the font to Lucida Console, which should have been installed with Vista. If you're using a linux terminal you might as well make sure the linux keyboard layout is selected as well.
For lines and other special characters, set the line drawing to Unicode. Lucida Console has Unicode lines. This is also why it doesn't work with Terminal or Fixedsys fonts in Vista, woe is me, I spent ages trying to figure that one out.
Unless you know you're using another translation page, set the translation to UTF8.
Things should look a lot better now!
AUTH is needed for many IRC networks, most notably on EFnet. If you're running a single instance of mIRC for example, it's not so difficult to port forward TCP 113 to your windows machine and allow mIRC to run its built-in identd.
It gets trickier when you want to dish out varied AUTH responses depending on the client on your NAT. You can use rndware's Windows Ident Server (1.0.3 is the latest as of this post) with Vista. I use it on Vista and can confirm that it runs both as an application in your systray (handy!), or as a system service (doubly handy!).
You can also use it in conjunction with reply-from-file mode, where it reads identity information from a flatfile rather than responding with the same AUTH each time. This is handy if you setup psyBNC on the same machine as your identd.
SftpDrive is a commercial program for Windows (apparantly it works in Vista: I'm using on multiple Vista machines here without a hitch).
It allows you to map directories on your SSH server as a network drive in Windows. This gives you seamless functionality between your SSHD and your local filesystem. I've found it extremely handy for editing remote source code and HTML, file management and storage/retrieval.
I'm going to press our company to purchase corporate licenses for SftpDrive, it's really worth the price if you work via SSH on a regular basis on a Windows machine.
Anyone know of a free alternative that does the same?