Archive for the 'hardware' Category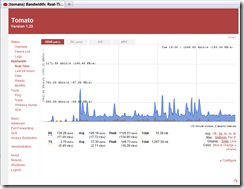 Having had problems with my ISP's modem/router/firewall/wireless device, I wanted to bridge to a separate device to handle the routing, firewall and wireless.
I have been using a Linksys WRT54G version 1 for this task. The firmware had to be flashed with DD-WRT, which is a pretty good firmware all in all, but seemed to be stretching the limits of the version 1 WRT54G.
The vintage DD-WRT build, which is the appropriate flavour for the WRT54Gv1 is a stripped-down version of DD-WRT which doesn't contain some of the newer features. Although it was fairly stable, it got slow and unresponsive at times over wireless, and had some trouble maintaining long-term RDP sessions over wireless, dropping the connections maybe twice an hour for a minute or so each time. Although QoS may have been an issue, my clever rebuttal is that "it doesn't work for me out of the box": I'm lazy as fuck, what do you expect?
All in all, DD-WRT worked better than the Speedtouch 780 as a router, and better than the stock Linksys or OpenWRT firmwares. My main problem with DD-WRT was that for some black magic voodoo reason, the XBox 360 was unable to join the wireless network. It could detect it, discover encryption method, but was unable to connect to the network no matter how hard I tried, no matter how hard I cried into my pillow.
After acquiring some expert/professional advice (i.e., googling the interwebs), I installed tomato the other day, and lo and behold—the XBox was able to connect without problems. Tomato seems more responsive than the DD-WRT thus far, which is another bonus.
I'm not sure about the newer WRT54G models, but if you have a version 1, you may want to consider using tomato rather than the stock Linksys, DD-WRT or OpenWRT firmwares.
If your Sparc is not set to automatically boot from CDROM, you might find the following handy.
Requirements:
Sparc (tested on UltraSparc 10)
Debian image
ISO burning software
Monitor and keyboard for Sparc (alternatively, run from serial terminal—serial cable required for this).
Instructions:
Download the debian sparc netinst iso image.
Burn the image to CD.
Put the CD into your Sparc.
Power off the Sparc.
Plug in keyboard, mouse, and monitor.
Power on the Sparc, you should see the POST and the machine initializing memory check.
Hit STOP-A. You will be brought to the "ok" prompt.
type "boot cdrom".
Run through regular Debian setup process.
That's it.
You may want to read this previous post for installation caveats regarding MBR, SILO, and serial terminal install.
In Vista, if you have a capable screen, you can input not only with Wacom ("Penabled") pens, but also with your finger. If you find that the calibration settings are completely off (which they seem to be by default), run in console as administrator:
tabcal novalidate
Aye, the Ultra 10 (Model 440) finally came in yesterday.
Headless mode install definitely works–here's how:
Get your Linux media burnt. Ensure your bootloader settings support serial console I/O (I tried using a nightly ubuntu-server/sparc .iso).
Get your serial console working with your Ultra 10. You will need a DB9 (com) port, which is commonly called ttyb. If your sparc didn't come with one, you can order them online.
You will need a null modem cable, and a terminal on the other end of the cable to capture I/O.
Boot via serial console, OpenBoot will load, at the "ok" prompt, type "printenv". Take careful note.
Set any variables you need to, using "setenv" (i.e., to ensure your terminal settings are correct). Some useful ones: auto-boot?, boot, input-device, output-device, reset.
You can also do this in blind-mode: headless using a keyboard plugged in locally to the sparc, hitting STOP-A once the keyboard LEDs stop blinking, and setting output-device and input-device, for example, to terminal, or screen/keyboard.
Now that it's all working, put in the Linux media, boot, and at the "ok" prompt type "boot cdrom".
Install your distro. All the stock hardware should be supported. Make note that SILO (LILO for Sparc) has specific requirements in terms of the disk (it must be installed within the first gigabyte).
It failed during the ubuntu-server setup process. Continue it regardless and complete the installation process.
Reboot the cdrom, and enter rescue mode. Mount the drive(s) that you just installed, and install the silo package (i.e., using apt-get for debian/ubuntu). It installed without incident for me here.
This information was tested on an Sun Ultra 10, 440-MHz UltraSPARC IIi, 2MB external cache, 1GB memory, 3D card, 2 x 9GB disk drives.
Ahoy mateys. Apart from having a great start to this year with my external drive dying January 1st, one of my laptops has been overheating to a point where it's unusable for any graphical or processor-intensive applications.
My Antec Notebook Cooler arrived bright and early this morning. The unit comes with two modes, quiet and not-so-quiet. Even with the lower fan setting, my laptop is idling at around 70 degrees C instead of 90-100 degrees C without the cooling unit.
I'll be writing a detailed post on the Antec Cooler's effect on CPU and HD temperatures in the near future, once I've tested the unit for a longer period. No overheats, yet.