They decided to change the format of the annual CNY celebrations this year, I think it turned out for the worse. Chinatown was literally blocked up with people, and old people were pushing us quite ferociously—it was quite a trauma, tbh.
The fireworks used to go off in Leicester Square every few hours, and the police would control the number of people in the area. This year, they decided to do only one show of fireworks, right before the end at 6pm.
The Dragon dancing through Chinatown had babies and we ended up seeing 3 or 4 different dragons, each causing a human traffic jam… pretty well planned guys.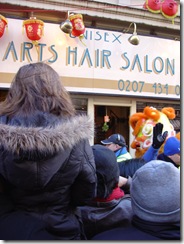 Pure quality shot.

Mad mafia boss protection.
2 Responses to 'Chinese New Year celebrations in London 2009'
Leave a Reply