Archive for February, 2009
They decided to change the format of the annual CNY celebrations this year, I think it turned out for the worse. Chinatown was literally blocked up with people, and old people were pushing us quite ferociously—it was quite a trauma, tbh.
The fireworks used to go off in Leicester Square every few hours, and the police would control the number of people in the area. This year, they decided to do only one show of fireworks, right before the end at 6pm.
The Dragon dancing through Chinatown had babies and we ended up seeing 3 or 4 different dragons, each causing a human traffic jam… pretty well planned guys.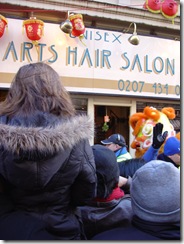 Pure quality shot.

Mad mafia boss protection.
If your Sparc is not set to automatically boot from CDROM, you might find the following handy.
Requirements:
Sparc (tested on UltraSparc 10)
Debian image
ISO burning software
Monitor and keyboard for Sparc (alternatively, run from serial terminal—serial cable required for this).
Instructions:
Download the debian sparc netinst iso image.
Burn the image to CD.
Put the CD into your Sparc.
Power off the Sparc.
Plug in keyboard, mouse, and monitor.
Power on the Sparc, you should see the POST and the machine initializing memory check.
Hit STOP-A. You will be brought to the "ok" prompt.
type "boot cdrom".
Run through regular Debian setup process.
That's it.
You may want to read this previous post for installation caveats regarding MBR, SILO, and serial terminal install.