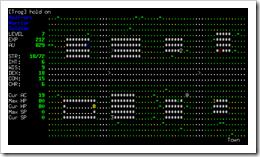 Well, after years and years of slow and patient progress from Crimson, he's made an official post on the official MAngband website stating that he intends to step down from maintaining MAngband, in lieu of the the current developers working hard at pushing out 1.0!
11/27/2007         Moving Day.    

On Tuesday, December 5th, 2007, MAngband begins a new era.

Finally admitting both to myself and the community that I simply no longer have the time to properly support the game,
I have delegated control and stewardship of it to a much more dedicated team of people, who have already started
making massive advances towards getting us up and running on 1.0 stable, as well as a much more structured development cycle.

I have been honored to have sat in stewardship of the game for these many years, and I
deeply appreciate both the trust, patience, and support I have received from the community at large during this time.

I will, of course, continue to participate in the game, and look forward to talking, and playing with the group.

Sincerely,

Robert L. Seifer

–Crimson
I can't say I disagree with Crimson's decision. Out with the mold, in with the new. I had a chat with someone on #mangband@irc.mangband.org earlier, and we had a pleasant discussion about some of the things MAngband 1.0 needs most–a code enema and some UI enhancements. While MAngband has always been the multiplayer roguelike, I'm sure few can say it's been a pleasant multiplayer experience these past years. The interface is truly roguelike, to the extent that multiplayer interactions (like chatting) become awkward.
Leave a Reply